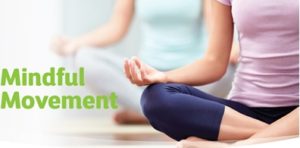 Fusion now offers an innovative new wellness program: Mindful Movement classes focus on gentle, controlled, systemised movements, breathing awareness and relaxation techniques.
Delivered in an intimate class setting in our ambient new Kennington exercise studio, each session will run for approximately 45 mins. Close supervision with a trained physiotherapist ensures correct application and optimal effect. Mindful Movement draws together three therapeutic elements:
Physio-Chi A series of sequenced movement patterns drawn from the ancient art of Tai Chi, modified by a physiotherapist to maximise the therapeutic outcomes on balance, core strength and pain control.
Breathing control/awareness Re-establish correct breathing techniques, learning to facilitate correct movement patterns around the trunk and enhancing meditative techniques
Meditation/Relaxation Unwind and learn techniques to calm thoughts, reduce pain and enhance recovery.
Suitable for those:
Experiencing chronic or persistent pain
Troubled by heightened anxiety or stress
Looking to improve mental and physical wellbeing