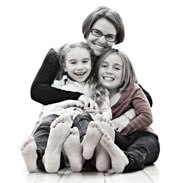 NICOLE MURPHY
For Feet Sake Podiatry
Nicole left the big smoke of Colbinabbin (population 120) to go to university in Melbourne almost 20 years ago. Since then she has been a podiatrist in Beechworth and Ballarat and was the Chief podiatrist at the Castlemaine Hospital before working at Podiatry on Williamson for the last seven years.
This is her first foray into her own practice where she loves to tackle ingrown toenails painlessly (TRUE – it can be painless) and where she is now selling shoes as she believes the right shoes can fix most things.
Nicole is also obsessed about food and writes in the Bendigo Weekly every week about it and she and her husband also own Bendigo Wholefoods – so don't get confused when you see her working as a check out chick on her days off. Some people think she's left podiatry because of the new business, but she loves helping people with their feet too much to do that.