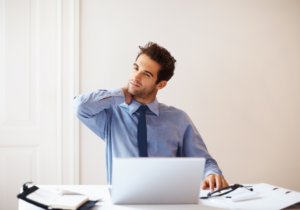 At Fusion we can assist in modifying your workstation set up and create a more comfortable working environment.
The goal of ergonomics is to make work more comfortable and to improve both health and productivity. Many ergonomic problems can be fixed by rearranging, adjusting or modifying existing furniture and tools.
We know that sitting for long periods can have negative consequences for our health, and that regular breaks along with standing for part of your day can help to prevent and relieve aches and pains when they occur. However, often sitting cannot be avoided, at which times it is important to ensure that your workstation is set-up correctly to avoid the risk of injury.
WORK-SITE VISITS
At Fusion we have an on-site Assessment service. It is important to see how you interact with the workstation in your environment. We can measure the physical dynamics, troubleshoot issues and work with you to develop the right balance in your approach to the work demands.
There are two main services:
Individualised Workstation Assessment – 30-40 min on-site, plus provision of report and recommendations. (recommended for the injured worker)
Multi-workstation screening – 10-15 min per person, immediate modifications and provision of summary report. (recommended as a preventative measure in a office environment)
Office ergonomics can help you be more comfortable at work, lower stress, and reduce the chance of injuries caused by awkward positions and repetitive tasks. If you sit at your desk in an awkward position or for a long period, you may suffer pain, discomfort or an injury. Typical injuries include sprains and strains of the neck, back, shoulders, wrists or hands.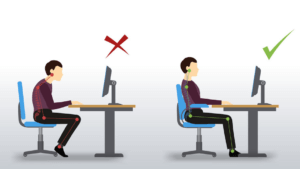 In order to minimise these risks, it is important to have a good workstation design, layout and setup as well as having a variety of tasks and opportunities to move around throughout the day.
DOWNLOAD
Healthy Workstation Guide